Q:
If I decide to get a violin and mess around with it…
My first thought was to check local pawn shops, but I'm not sure what signs of "quality" or brands to look for – I might end up with something shoddy or discouraging in some other way.
Do you have suggestions regarding where I might get a decent quality violin for not a whole lot of money? (Especially if I later end up wanting to plug it into some electronics.)
Or should I just go dirt-cheap at first, see how it works for me, and then upgrade later?
Money isn't super-tight at the moment, but I don't want to spend more than necessary.
– Ben S
A:
Hey Ben,
The instrument you choose is going to make a huge difference in how much you enjoy your first steps toward playing. A lot of people have come to me saying that they've tried violin and just couldn't get anywhere. They were ready to give up, feeling like there was something wrong with them, when in reality they were working with a violin that was nearly impossible to create a pleasant sound with. Many violins at the entry level price range are literally unplayable even though they may look like a violin. The availability of these online has sadly turned into a widespread phenomenon, and these types of "instruments" have been nicknamed "VSO"s which stands for Violin Shaped Object. Looks like a violin, but it really isn't!
I don't say this to be discouraging. Rather, I want to encourage you to take your time and be careful choosing instrument. To aid you in your quest, I've put together this Beginner Violin Shopping Guide. Hope it helps!
Price Range
Resist the urge to "go dirt-cheap at first" — your hunch is right that a cheap violin could easily be discouraging.
That said, you shouldn't have to break the bank for your first violin. I've found that $450 for a violin outfit complete with bow and case is the realistic entry level price for something that is good enough to learn on. Any less than that is highly suspect (unless it's some kind of great deal from a friend).
I found the best thing I could recommend for a quality beginner violin and put it for sale on my website.
This is a great sounding violin for the price, sold by my favorite violin shop, Terra Nova Violins in San Antonio, TX. Many of my students have ordered these, and love them. I recommend this shop because my friends there will test drive it for you. My first few violins were chosen with a lot of help from my teacher, because it's just really hard to tell what's good when you don't know how to play yet.
If your budget isn't in the $450 range, your best alternative is renting. It costs $15-$20 per month to rent a violin of comparable quality, and a portion of the rental fee goes toward your future purchase. It's a fantastic way to give things a try without a huge investment. That said, you still have to make sure the rental violin is a good quality instrument.
Go to a dedicated violin shop, because general music stores that sell guitars and/or high school band instruments tend to have very poor violins to rent. Once again I recommend calling Terra Nova Violins at 210-239-4700. Tell them Jenny sent you! They will get you set up with a great violin for about $20/month and will ship it to you for free. They take excellent care of their customers.
Now that I've (hopefully!) convinced you that your first violin should not be the "bargain basement" variety, let's talk about how to get the most bang for your moderate buck.
How To Know You're Looking at a VSO
Ah, the dreaded "Violin Shaped Object." Looks like a violin. Might even smell like a violin. Certainly doesn't sound like a violin. Here are a few dead giveaways:
Bridge Feet
Look at the photo below (the VSO is on the right). The feet of the bridge of the VSO are thick and rectangular. Also notice that the curve of the bridge is symmetrical. This is a blank bridge that has not been set up. The chunky rectangular feet do not efficiently transfer the vibration to the top of the violin so it will be easier to squeak and the sound you produce will generally be thin. The even curve will make it hard to play the E string without hitting the A unintentionally, which is very frustrating, and playing on D and G strings will be weird too. Not to mention, if a violin is sold with a bridge that looks like this, there is a good chance the rest of the violin is junk.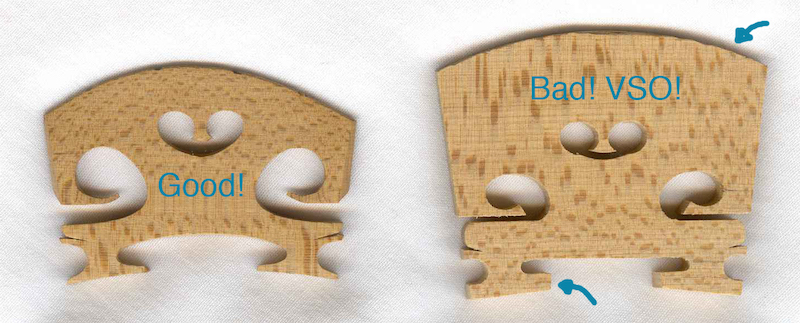 In contrast, the bridge on the left has been carved and customized by an experienced luthier. Notice the feet are curved and very thin. These have been masterfully customized by a luthier to fit the specific violin. The curve has been artfully shaped to allow easy string changes, including a steeper slope down toward the E string. There is a good chance that you are looking at a decent instrument if this kind of attention has been given to the bridge set up.
Fingerboard
The VSO fingerboard can be made of a soft wood and painted black to imitate ebony. Look under the fingerboard for gaps in the paint. A real violin will be solid black underneath because it is solid ebony.
Purfling
"Purfling" is a fancy word for the very thin strip of inlaid wood around the edge of the body of the violin. Purfling protects the violin body from temperature changes and is a sign of good craftsmanship. VSOs do not have purfling, but rather might have a thin strip of paint to imitate purfling.
Tuning Pegs
A VSO's tuning pegs can be made of a softer wood and often are not fitted properly to the instrument. This makes it very easy for them to slip. If your violin, or the one you are looking at, goes constantly out of tune, there's a good chance it's a VSO.
Strings
Cheap strings sound tinny and harsh. The good quality strings that come with a good violin cost $25-$50 per set and this is part of the value you get when buying something good.
BSO
Only thing as frustrating as a VSO is a BSO: "Bow Shaped Object." Ironically, BSOs often are not bowed enough and will appear somewhat straight. Or it will bow in the wrong direction curving side to side. You can also sometimes notice sloppy connections where the hair meets the bow. It's amazing, but a bow is just as important as the violin! If you encounter one of these objects I suggest using it for backyard baseball or as a backscratcher, but minimize trying to use it to learn violin!
Location, Location, Location
The store you buy from makes a difference. I haven't found any online dealers I can recommend wholeheartedly. To be fair, I don't have extensive experience here. I had a $1500 violin from "reputable online dealer" Shar before I found my trusty local shop, Terra Nova Violins. The one imported by Terra Nova sounded worlds better and cost only $1000. Plus the one from Shar strangely had this tacky finish that never fully dried. After that experience I've gone local and never looked back. (The Shar one was good, not a VSO, but just not nearly as good as the less expensive one imported by Terra Nova.) My theory about why quality standards for online violin shops are inconsistent is that they know they can get away with selling the less desirable instruments of the bunch without having repercussions in their local community.
Also avoid music stores that specialize in guitars or school band instruments – their violin selection is likely to be a gorgeous array of VSOs.
Signs of Quality and "Good Brands"
Unfortunately, I don't have a perfect answer for you here. It's not like a guitar where you can buy a good brand and know what you're getting. This is because it's relatively easy to mass produce a good quality guitar. Not so for violin! You can't tell what you will get based on brand name alone until you get into the very high price ranges of makers.
It's easy to give a checklist for spotting a VSO (what not to buy), but the only way I know to get the very best for your money is to use a personal connection. Shop extensively with an experienced violinist or find a dedicated violin shop that you trust. I trust my friends at Terra Nova Violins the most, so I send people there. Another good way to find the best violin shop local to you is to call your nearest symphony and ask where the symphony members go.
Good luck!
Keep me posted,
Jenny
p.s. If you want to read an in-depth discussion about the pitfalls of less expensive instruments, complete with photos, here's a very thorough article I've found on the topic.