Are you scouting gifts for violinists and fiddlers? To help you with your search, here are some of my favorite things that will inspire and delight the violinists, fiddlers and music lovers on your holiday gift list.  I just love the idea of channeling some of the season's shopping mania to support local musicians, or to help create some new ones!
A couple of these come directly from my site, but the rest are available on Amazon.com. (A portion of each purchase made after following the links below will support thehotviolinist.com!)
GIFTS FOR VIOLINISTS IDEA #1 – THE HOT FIDDLE
If you know a violinist who is struggling to scrape by with a cheap fiddle and bow, this violin will change their life or at least totally alter the course of their violin learning. Several of my students have upgraded to these from eBay fiddles, and everyone loves them! The sound is pure and clear, it comes with a good bow, and the set-up from my friends at Terra Nova Violins of the bridge and strings is primo.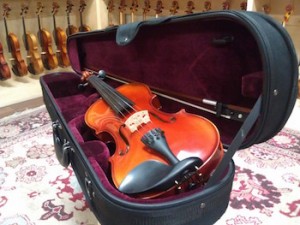 GIFTS FOR VIOLINISTS IDEA #

2 – MUSIC STAND
I've done my fair share of propping up sheet music against stacks of books or inside a desk drawer. Once I got one of these foldable stands, I thought, oh my gosh… why didn't I get one of these sooner?? Such a simple tool, but it totally changes the comfort of playing from a sheet of music. Adjusts from sitting to standing. Learning violin can be frustrating at times, so you might as well not have to worry about catching a book as it goes sliding off your desk. The little carrying bag is convenient and the different colors are fun for gift giving. If you're brainstorming gifts for violinists, this should definitely be on the list!
Guardian Portable Music Stand – Pink

Guardian Portable Music Stand – Blue

Guardian Portable Music Stand – Red

Guardian Portable Music Stand – Yellow

Guardian Portable Music Stand – Purple

Guardian Portable Music Stand – Black
GIFTS FOR VIOLINISTS IDEA #

3 – TUNER
I'm offering two ideas for tuners, basic or fancy:
Basic: Snark
Clips onto the scroll so you can tune even with background noise at all the fancy gigs you'll be booking. It's fine for getting the strings generally in tune for fiddle music, but not as accurate or versatile as the Korg.
Fancy: Korg Orchestral Tuner
This is a super-advanced tuner with settings for different "temperaments," or systems of intonation, that are available on violin. If you ever want to use a tuner to test your intonation on scales or double stops, a fancy tuner like this is a must. Relying on your ear is best, but these are still fun and enlightening to play with.
GIFTS FOR VIOLINISTS IDEA #

4 – BERNADEL ROSIN
My favorite stuff for smooth playing! And it comes in a fancy velvety pouch!
GIFTS FOR VIOLINISTS IDEA #

5 – STRINGS
Basic: D'Addario Helicore
Clear, bright, and great for fiddle playing styles.
Fancy: Pirastro Evah Pirazzi
Oooh la la, the luxury… I usually reserve these for recording because the price matches how rich they sound.
GIFTS FOR VIOLINISTS IDEA #

6 – BAGGS BRIDGE
This pickup will turn any acoustic violin into an acoustic/electric with very natural sound. Great for the violinist on your list who wants to start performing soon. Must be installed by a trusted violin luthier.
GIFTS FOR VIOLINISTS IDEA #7

 – JENNY'S DISCOGRAPHY
Listening to recorded violin music is very beneficial for learning the instrument and progressing in different styles. Plus, I won't lie! I would love it if you would give my music to violin lovers on your list this Holiday season! The combo pack is a killer deal and it shows the progress along my own path of learning violin as an adult.
http://www.thehotviolinist.com/store/products/my-discography/
GIFTS FOR VIOLINISTS IDEA #

8 – JOSHUA BELL ALBUM
I had to balance out the offerings of my fiddle discography with some work by a true virtuoso! He got together in his living room to record "At Home With Friends" with other musical bums like Sting, Regina Spektor, Josh Groban and more… It's really good!!
GIFTS FOR VIOLINISTS IDEA #

9 – SUZUKI BOOK 1 WITH CD
I studied fiddle for two years before I finally broke down and decided to study the Suzuki method. I credit this method as the foundation for every pretty sound I make no matter what the style. I recommend buying it with the CD because listening is really important.
GIFTS FOR VIOLINISTS IDEA #

10 – MARK O'CONNOR FIDDLE METHOD
This is a well organized fiddle method using traditional folk music written by the famous fiddler, Mark O'Connor. No relation to me that I know of, but I do love how the books are titled, "The O'Connor Method".
GIFTS FOR VIOLINISTS IDEA #

11 – HOT VIOLINIST LESSON PACKAGES!!
I teach a combo of classical technique and world fiddle styles with an emphasis on training the body to play beautifully with ease. If you purchase one of my lesson packages as a gift, I will email you a printable voucher for wrapping as a scroll or stuffing into a card.
http://www.thehotviolinist.com/lessons/
What are your ideas for gifts for violinists and fiddlers? Share them in the comments below!