Happy Holidays! And welcome to my annual list of gifts for violinists and fiddlers.
I asked my students what items are secretly listed in their letters to Santa, and added some things I personally enjoy.
There are items in this year's list for every budget.
For the student suggestions, I'm including screen shots from the Group FB page to give credit to the idea person. 🙂
Right up front I want you to know, this is not going to be the most durable, longest-lasting case you can get. But it looks like the old school ones the mafia would use to hide a machine gun, so it's making this year's list!
It would be great for someone on your list who doesn't do a lot of heavy traveling. And wants to show up to the occasional jam session with classic style.
I posted a pic with this yesterday on my Instgram, but here's one where you can see more of the case:
Rosin build up. The struggle is real!

I'm a wipe-it-off-with-my-T-shirt-girl myself, so I appreciated Jim suggesting this.

Good idea Steve! I'm always making these out of sponges and plastic bags when the humidity dips, but it would be better to have a nice one.
Another fellow hot violinist Derek recommended this one that seems pretty amazing. The gel packs hold much more water than the standard sponges and it comes with a Velcro strip that adheres to the inside of your case for primo placement.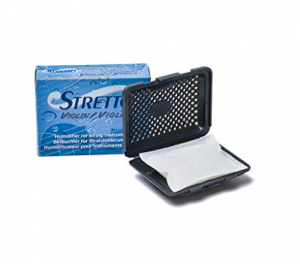 Most geographic areas either get super dry in the winter or are dry in the first place.
Moisture is your violin's friend for staying in one piece and holding your tuning.
I linked to Amazon for the best price, but I always recommend going to your local smaller shop whenever possible. Shar has these too, so it would be a convenient stocking stuffer add-on if you wanna get the case I suggested in gifts for violinists suggestion #1.
(Btw I don't recommend buying a violin at Shar even though they are a decent back up plan for accessories when you can't make it to the local shop.)
This is for the violinist that has all the necessities but loves toys. I found it while searching for a metronome solution for a student who hates her electronic metronome and doesn't wanna mess with the ones on the phone.
I watched the video on Boss's website and this thing sounds really nice! I like how it has a big loud speaker so maybe there's a chance of actually hearing it over the violin blazing in your ear.
More like a jam buddy than a metronome….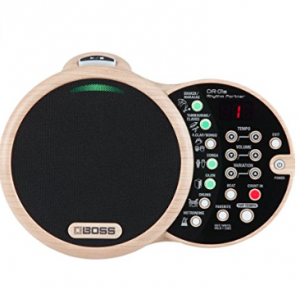 A couple years ago I first shared the Hot Tips Tuesday suggestion to practice 5 minutes a day minimum.
One of the newsletter readers pointed out that this is so much easier to do if your violin is already out and handy.
This is hands down the best $12.75 I've ever spent on my violin life. How amazing is that to give someone this stocking stuffer that means they'll be able to play violin more frequently next year!?
Violin maker Andrew Caruthers makes some really cool stickers and shirts in his spare time.
I imagine it's an Edward Scissor-hands-like frenzy when he wields traditional violin carving on linoleum printing blocks. Viola! Unique art for violin related tee shirts.
I've seen a few of my students wear his designs for their own casual performances and out to see live music.
Here's an elegant way to time your practice without getting interrupted or distracted by your stinkin' phone.
Phone on airplane mode and flip the timer over. And play!
The black sand is 30 minutes and the white sand is 5 minutes. I recommend using the big one for working on learning tunes and small 5 minute one for bursts of technique practice, for example keeping bow straight in the mirror.
One newsletter reader told me she gets more focused practice by thinking, "I only have 30 minutes to work on this so I better make it count," rather than, "I will try to focus on this for 30 minutes."
I thought that was a cool way to flip the script and trick your own brain into practicing good stuff.
Gabs pretty much summed it up:

I'll say no more. Except that heads up, these require installation which can run about $100-$200 in addition to the cost of the pegs. So worth it, if you can swing it.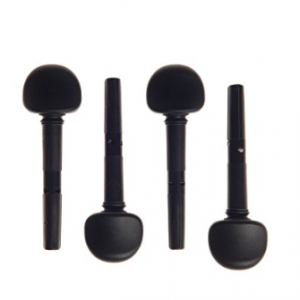 Thanks for letting us know about this Mary!
I think any fiddler would love a gift subscription, plus the website offers a treasure trove of quirky fiddle gifts like these note cards featuring a vintage etching of fiddler dancing with dog.
How cool is that?
What to get for the violinist who has everything?
Find me one violinist (or anyone who has a computer for that matter…) who doesn't have a bit of a stiff neck.
Boom! Massage gift card…
Because we all know and accept that fiddle music sounds much better when the fiddler is wearing a hat.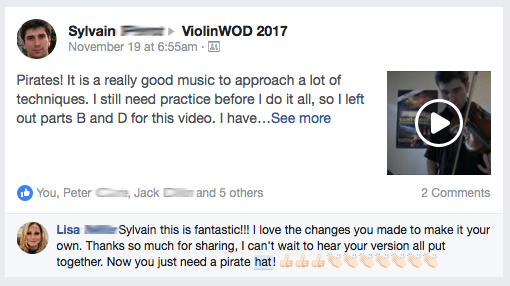 This website has a ton of variety from silly to serious in different price ranges including this one that is literally called the Fiddler Cap.
So that's my list for 2018! Please let me know if you end up getting any of these for your friends and loved ones.
And do you have any ideas of gifts for violinists and fiddlers? Let me know in the comments below!